Increasing Security & Driving Operational Efficiency for Financial Institutions
With increased competition in the financial market, it's critical for banks and other financial institutions to continue to drive operational efficiencies and service improvements for their customers. Often this means modernizing legacy systems, building reliable integrations between applications and aligning IT resources with larger business goals that focus on security, operational efficiency and customer satisfaction.
More Money, More Problems
Security, in particular, is critical for financial institutions. Financial organizations are charged with keeping sensitive consumer and business information safe. However, there has to be a balance between keeping operational processes safe and the manual work that goes into entering that sensitive data.
Reconciliation of funds is another example of a financial process that can be an absolute nightmare if the right automations aren't put in place. Manually entering, importing, exporting and editing data takes precious hours that could be spent on other more strategic, business-critical tasks.
Poor Integrations & Automation Mean More Manual Processes
With slow and unreliable systems integrations in place, as well as unnecessary manual processes taking up valuable employee time, businesses are constantly struggling to keep up, instead of focusing their efforts on creating the products and services that will differentiate them from their competitors and drive business growth.
A Better Solution
To automate operations and drive business value, organizations need an efficient, agile and scalable integration solution that connects data and applications to existing IT systems, without breakage or ongoing errors. By leveraging reliable integrations, businesses can improve customer satisfaction, reduce costs and build competitive advantage.
An integration as a service solution can help organizations support business process automation that allows for seamless data integration, fraud reductions, enhanced security and access to the agility and flexibility needed to make changes to their technology environments quickly and easily, without the need to learn a new coding language or have advanced technical knowledge .
With a platform that uses transaction-secure automation, businesses can quickly implement scalable process orchestration, error-free integration of key data and platforms and a built-in audit trail, while also creating a modern customer experience — all of which is incredibly important to financial organizations that can't afford to spend extra time reconciling accounts or validating consumer data. In addition, stable integrations between systems allows financial institutions the ability to access key insights to enable data-driven business decisions.
Experience the Benefits of Transaction-Sure Automation
Qore helped us streamline payment card processing to provide efficient, real-time payment validation and a secure audit trail, ensuring every payment card batch is reconciled with our treasury and core banking systems.

Chief Operating Officer, RAIFFEISEN BANK AVAL
Fortunately, error-prone integrations and manual processes don't have to keep you up at night; there's a solution for that. Integrations work the way they should, every time, with Qore's Transaction-Sure Automation, a self-healing technology that connects systems and solutions with advanced error detection and recovery to facilitate seamless business operations.
Ready to find out more about Qore Technologies? See Transaction-Sure Automation in action.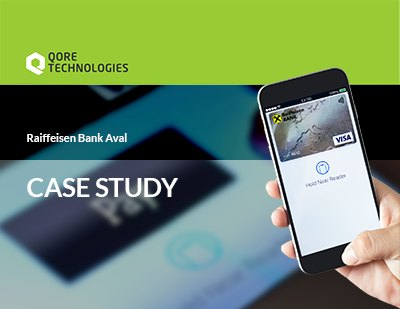 Case Study: Learn how RAIFFEISEN BANK was able to reduce costs and automate payment card processing to achieve a competitive edge.