The Evolution

of

Chatbots

to

Conversational AI –

and

Why Automation Matters 
By now, most individuals who spend time on the internet have been on the receiving end of an automated interaction. Whether they've encountered a chatbot, virtual assistant or other conversational AI solution, it's safe to say these technologies are everywhere. And with 64% of people saying they'd rather message a business than call it, it's no surprise they've been so successful.
For years, people saw these automated interactions as a novelty, with limited use cases, like answering basic questions. And because the technology itself was very limited, companies looked for ways to solve those limitations with new, more intelligent technology.
Chatbot technologies have now evolved from simpler automations and assistants to true conversational AI- where natural language understanding and machine learning now mean AI programs can understand the meaning and intent of humans (without having to "program" every response option. Conversational AI has entered the mainstream, with high quality interactions and understanding a top priority.
But despite the positive impact both simple chatbot solutions and true conversational AI tools have had on businesses' customer service departments, the technology still has a long way to go in truly affecting a company's wider business and bottom line.
Beyond Chatbots
To make a tangible business impact, it's important that conversational AI tools are successfully integrated with other business systems. Conversational AI works best when almost everything happens in the background of the conversation.
For example, if an ecommerce customer needs to buy a beach towel and directs Amazon's virtual assistant Alexa to order some, Alexa can do that because "she" already has the customer's information stored. She knows the customer's name, address and payment method on file. Those systems are connected.
But Amazon also takes this a step further in that next time this customer visits the site or app, he'll likely receive recommendations for other beach items. This is one example of how conversational AI can feed into a personalized shopping experience. The customer merely has to ask to buy a beach towel. The magic happens in the integrations and automations on the back-end.
A True Omnichannel Experience
But connecting business systems with conversational AI can have wider-reaching implications than personalization. It can also help organizations deliver consistent experiences across a wide range of channels, leading to the ever-elusive seamless omnichannel experience.
By operationalizing conversational AI, businesses can grow profits and decrease operational friction across multiple touchpoints. But building out all of these integrations can be an extensive project for in-house IT teams who may need to be focused on more pressing matters or not have the knowledge or experience to build out these connections.
Conversational AI Automation
That's where Qore can help. Qore's Conversational AI Automation Platform turns conversations into actions by connecting conversational AI platforms with enterprise data, processes and systems like CRM, service desk, sales order processing and more.
Connect your AI solution using simple no-code configuration of reusable building blocks and native Python / Java integration. And visually build and modify workflows to create efficient, high-performance and easy to manage automations with Qorus dynamic process orchestration.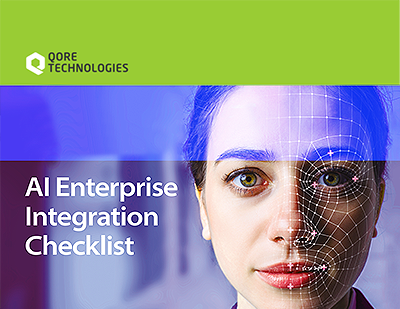 CHECKLIST: Help plan and manage your next AI or Data Science integration project