Selecting an integration platform is a major consideration for any business.
While the right integration platform can help you save costs, create efficiencies and build a better customer experience, the wrong platform can end up costing you more time and effort than you can afford. Does your business need a rapid way to connect applications and increase business agility? Read on to learn five must-haves when choosing your next integration platform. 
 1. Support for Your Business Needs
Connecting your business apps and data is much more than a technical challenge for your IT team. A good integration platform helps you transform business processes into trusted automations that can be reconfigured as needed to support your changing organizational needs.
When choosing a platform, consider both your line-of-business and general business applications, whether they are deployed on-premise or accessed via cloud services. And remember to take operational technology, like smart and IoT devices, into account as well. (These can be devices you use now or are planning to incorporate in the future). 
2. Flexibility
Flexibility is another important attribute in choosing an integration platform, or in any software consideration. Business requirements can change quickly as market situations evolve, competitors release new products or customers demand new, more advanced functionality. Look for an integration platform that is easy to configure, has a short implementation time and is flexible enough to make change as they are needed, while also maintaining robust, high quality integration capabilities you can count on. 
3. Reliability
Technical errors such as network outages are unavoidable. After all, no system is perfect. But your business should be prepared to recover quickly when these errors happen. Choose an integration platform that has built-in mechanisms for automatically detecting and correcting errors and that guarantees integrations without double bookings or ongoing issues.
4. Security & Compliance
Security and compliance should be at the top of your business' priority list when choosing an integration platform–or any platform, for that matter. Check that the platform you are considering provides support for authorization and authentication. And ensure that your APIs and data will be protected with the right level of permissions. Depending on your location and industry, you will need to ensure the platform complies with a number of regulations such as the EU GDPR and California Consumer Privacy Act (CCPA). Look for a platform that was built with security and compliance in mind.
5. Scalability and Performance
Ask yourself: how will your integration platform cost-effectively scale to meet your performance requirements and expectations? Consider how you want the platform to perform today and how you expect you will need to scale tomorrow based on growing data volumes and application needs. Consider any additional integrations that may be needed in the future as systems and processes evolve to meet your business requirements.
Why Qore Technologies?
Enterprises of all sizes need to integrate applications. But battling the complex tangle of systems can be a nightmare for busy IT teams. Qore understands that businesses need to get their integration projects up and running quickly and efficiently.
Qore provides enterprise-class, failproof integration solutions via a powerful, easy to use platform. Connect your operational, cloud and in-house technology using our all-inclusive Integration as a Service solution. 
Guaranteed service levels and predictable monthly fees mean your investment goes further, while features like inbuilt security and GDPR / CCPA compliant data processing, performance monitoring and automatic error recovery help you meet your ROI goals.
Learn how Qore Technologies can help your integration project reach its full potential. Contact us today to schedule your demo.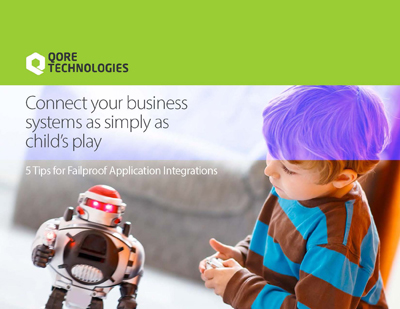 FREE eBook: Learn how to connect your apps and data into robust processes