Growing volumes of connections bring new complexities for business.
Your applications and their data are core to your business operations and ultimately, your overall profitability. But an increasing number of connections across social, cloud, mobile and the Internet of Things (IoT) is presenting new complexities and making it difficult to keep up with ever-evolving digital business needs. The missing ingredient for many businesses is a way to integrate systems and data reliably, without the threat of failure.
That's where an automated self-healing service such as Transaction-Sure Automation comes in. Transaction-Sure Automation detects integration errors and proactively checks the remote system to verify the status, either repeating the action or skipping it—thereby eliminating the errors and any double bookings. This type of service ensures integrations flow smoothly every time to drive operational efficiencies.
Here are six signs your business needs Transaction-Sure integration:
1.  You spend too much time and money building and maintaining your integrations.
If your IT team is currently spending a ton of time building and maintaining integrations, you could be in need of a new solution. Is your team constantly working to ensure that any new integrations won't negatively affect existing ones? If so, look for a solution with error detection and correction that can significantly reduce the team's level of effort and save you money. Look for a solution that doesn't require special technical knowledge so it's easy to maintain.
2.  Your scalability, availability, and resource constraint are causing IT to look at alternative integration solutions.
What's the fastest way to know you have a problem? When your IT team tells you that you do! If a new integration solution is constantly part of your organization's technical talk track, it might be time to make a switch. To make this happen, integration solutions must be top-of-mind for business leaders. Integration decisions can't be made by IT in isolation. Business leaders must engage — because simply ignoring the issue could cost you. 
3.  Your integration project requirements rapidly expand in scope. 
What initially looked like a simple addition to your technology stack has turned into a project that will now take months to complete. Each integration project seems to get harder, not easier for your team. And you don't know how you'll implement your solution on your original timeline. You need a predictable solution that's scalable and eliminates manual steps with an easy drag-and-drop interface anyone can use.
4.  You aren't getting the actionable data you need. 
When integrations work properly, the flow of information can provide amazing insights for your business. When they don't, catastrophe can strike. If two systems you use for customer communications have downtime, for example, your customer satisfaction level- and your business' reputation – suffers. With Transaction-Sure integration, you can break down data silos and unlock productivity to transform data into actionable information, allowing you (to follow the situation above) to gain a complete view of your user interactions, preferences, and attitudes.
5.  Your IT team is constantly putting out fires. 
Perhaps you have the right staff in place to manage any integration issues, but those staff should be spending the bulk of their time focused on other initiatives. Or maybe there are just a few people on your team with the know-how to correct errors when they occur.  If your team is constantly putting out fires and attempting to fix failed integrations, they can't focus on other, profit-generating activities. Choose a more reliable solution to help them get back on track. 
6.  You need to get a new solution up-and-running quickly to outpace your competitors. 
When done right, an integration solution will provide the tools to make your developers more productive, meaning they'll deliver integration projects faster. When integration projects are delivered faster, a large portion of your overall project will be completed, pushing you closer to your goal of getting your new offering to market. 
Choose a solution that allows you to visualise and configure workflows to automate any business process – without the need to understand the underlying systems and technologies. This will enable your team to configure new processes spanning in-house, cloud and operational technology systems quickly.
Reduce Integration Headaches with Qore
Since 2006, Qore has helped  global enterprises solve their integration challenges, from simple  data synchronization to high volume, business-critical transactions spanning multiple systems  and technologies. We know the integration platform is only part of the story, which is why we combine our transaction-sure platform with configuration, testing and ongoing support as an all-in service, providing enterprises with rapid and flexible integration at very low risk.
Learn how Qore Technologies can help you reach your integration goals with Transaction-Sure Automation. Contact us today.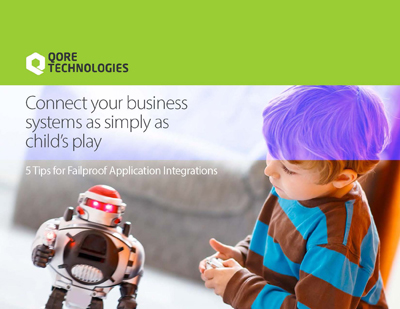 FREE eBook: Learn how to connect your apps and data into robust processes