But there are many ways an integration project can go awry. 
For example, your project may not have enough C-level support, or your business goals may not be well-defined, causing the project to languish.  Fortunately, though, there are some steps you can take to ensure your integration project is a success. Read on to learn five ways you can make sure your business' integration initiative has a positive outcome.
 1. 

Choose a Project Champion
Determining who is involved in your integration project is a crucial 
first step. Choosing a leader is the next. Whether you decide to handle your 
project in-house or outsource to a vendor that offers
integration as a service
, having a primary point 
of contact is key.  
Your integration champion will articulate the business benefits of the project to others, then identify and engage with the right stakeholders to track progress and remove roadblocks until the project reaches completion. Without a champion at the helm, your integration project runs the risk of not achieving time, budget and resource requirements
—
or even failing to launch in the first place.
2. Map to Business Goals
Once you have chosen your project champion, create clear goals and deliverables for the project, ensuring these goals are tightly linked to overall business objectives. For example, customer experience initiatives may aim to deliver better service by integrating back office systems with customer facing mobile apps and chatbots. Other initiatives may aim to streamline supply chain or logistics processes to remove unnecessary costs and delay.
Next, plan how your project will deliver these goals. Keep in mind that if you decide to handle your integration project in-house, it could take months or even years to get the initiative through to fruition. Adopting an incremental "build – test – prove" approach in place of overly complex and lengthy integration projects is best practice for any integration project. But even then, it is likely you will need to make changes over time.
These changes to your integration strategy can put increasing (and avoidable) pressure on your IT team. Setting goals and working with an application integration specialist can help you focus on your target business objectives.
3. Get Exec Buy-In
Integration projects may not always be on the top of your CEO's "need to know" list, but maybe they should be. Whether your CEO is involved or there are other key stakeholders who need to know about your project, ensure you keep business leaders on your side.
Start by identifying the owners and key stakeholders for the data, processes and applications involved in your integration project, particularly during the planning and goal setting process. Then update these stakeholders on progress throughout the duration of your initiative, asking for feedback and support along the way.
4. Keep Security at the Forefront
Whie it will be tempting to move quickly in an effort to outpace the competition and deliver a new solution or a better customer experience, it is critical to keep business and customer data safe, with essential privacy and security controls in place.
There are several steps you can take internally to manage your company's and customers' risk during an integration project, Check support for enterprise authentication and authorization, and ensure you are compliant with protection legislation such as the EU GDPR, CCPA, HIPAA. Finally, check that your APIs and data will be protected with fine-grained permissions.
5. When in Doubt, Count on In-Service Automation
Plan to automate in-service error handling as a key part of your integration planning. Unavoidable technical errors such as application, database and network outages should be handled gracefully and recovered whenever possible.
Consider the mechanisms you will use for correcting errors and automatically recovering tasks in ways that guarantee integrations complete without errors or double bookings.
Using an automated error service such as Transaction-Sure Automation means that when a technical error is detected, rather than just repeating the action which might introduce a double booking, it will perform a proactive check of the remote system to verify the status and then either repeat the action or skip it, eliminating errors and double bookings.
Qore Technologies helps enterprises connect their processes and technology so they can operate more efficiently and innovate faster. Qore Integration as a Service provides a complete integration solution with guaranteed service levels for a predictable monthly fee, removing the high costs, high risks and long project timelines that typically come with implementing an integration infrastructure.
Learn how Qore Technologies can help your integration project reach its full potential. Contact us today.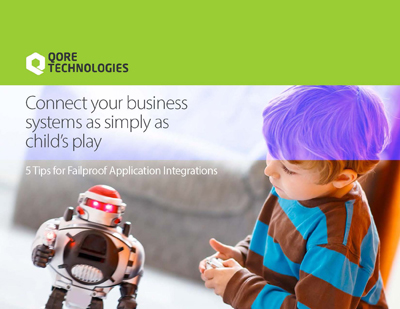 FREE eBook: Learn how to connect your apps and data into robust processes