path handler implementing POSIX specific functionality More...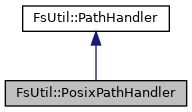 [legend]
◆ joinPaths()
Returns path resulting from joining the given paths.
Parameters

| | |
| --- | --- |
| path1 | the first part of the path |
| paths | the other parts of the path |
Returns

all paths joined into one valid path (i.e. delimiters are added/removed as needed) except for cases when one of the paths (in the list) is an absolute path - in such cases that path is considered a new start of the resulting path. The resulting path is not normalized (i.e. "/path/to/../../file.txt" is a correct result of join("/path/to", "../../file.txt");). Since the second parameter is a softlist, this variant also works for joining two string paths.
Implements FsUtil::PathHandler.